Cloudity, an IT consulting and services company and Salesforce and Workplace from Meta integrator, has helped the Mousset Group, a carrier group with more than a hundred operating sites across four countries, to adopt the global communication platform, Workplace from Meta, to facilitate internal exchanges.  
Created 60 years ago, the Mousset Group now has many subsidiaries in different fields such as industrial courier, food transport in the heart of cities, farmyards or transport with handling. Over the years, the Group has become more international and the number of employees has evolved.   
In order to keep the teams as an integral part of the strategy, each year, the Mousset Group organizes a two-day strategy seminar with about thirty employees in the company of the CEO, Frederic Leblanc. The objective is simple: to bring up topical issues from the field solutions.   
"During this seminar last year, we asked for the creation of an internal social network to keep this family spirit. We are acquiring more and more subsidiaries and it is not always easy for our teams to know each other" says Clair Bousigue, in charge of digital communication at the Mousset Group.  
How Cloudity helped employees get started with Workplace from Meta  
 After considering the needs of its teams, the Mousset Group decided to integrate the world-renowned internal communication platform, Workplace from Meta.   
Indeed, the lack of professional communication tools, mobile and accessible to all, had pushed employees to use public platforms (WhatsApp and private groups on Facebook) to collaborate. Institutional exchanges remained very hierarchical and field employees (drivers and dock workers) who do not have a computer to access the company's applications could feel isolated by the lack of information.  
To maximize the adoption of this new platform, Cloudity teams worked with the Mousset Group team to make Workplace from Meta their platform:   
By rethinking the user journey with specific use cases for each employee typology to meet their needs, 

 

By creating global communities for everyone, both cross-sectoral and local, which allowed everyone to get involved in the life of the company via an easy-to-use application accessible on cell phones, 

 

By getting some of the teams on board before the launch, so that they take ownership of the platform by sharing content relevant to their colleagues and thus avoiding the empty restaurant effect. 

 
One of the key success factors was to bring on board managers and field staff to support the project team in preparing the platform. This was an essential trio for establishing the legitimacy of Workplace within the Group, disseminating the right use cases to the core teams, and overseeing its deployment throughout the company.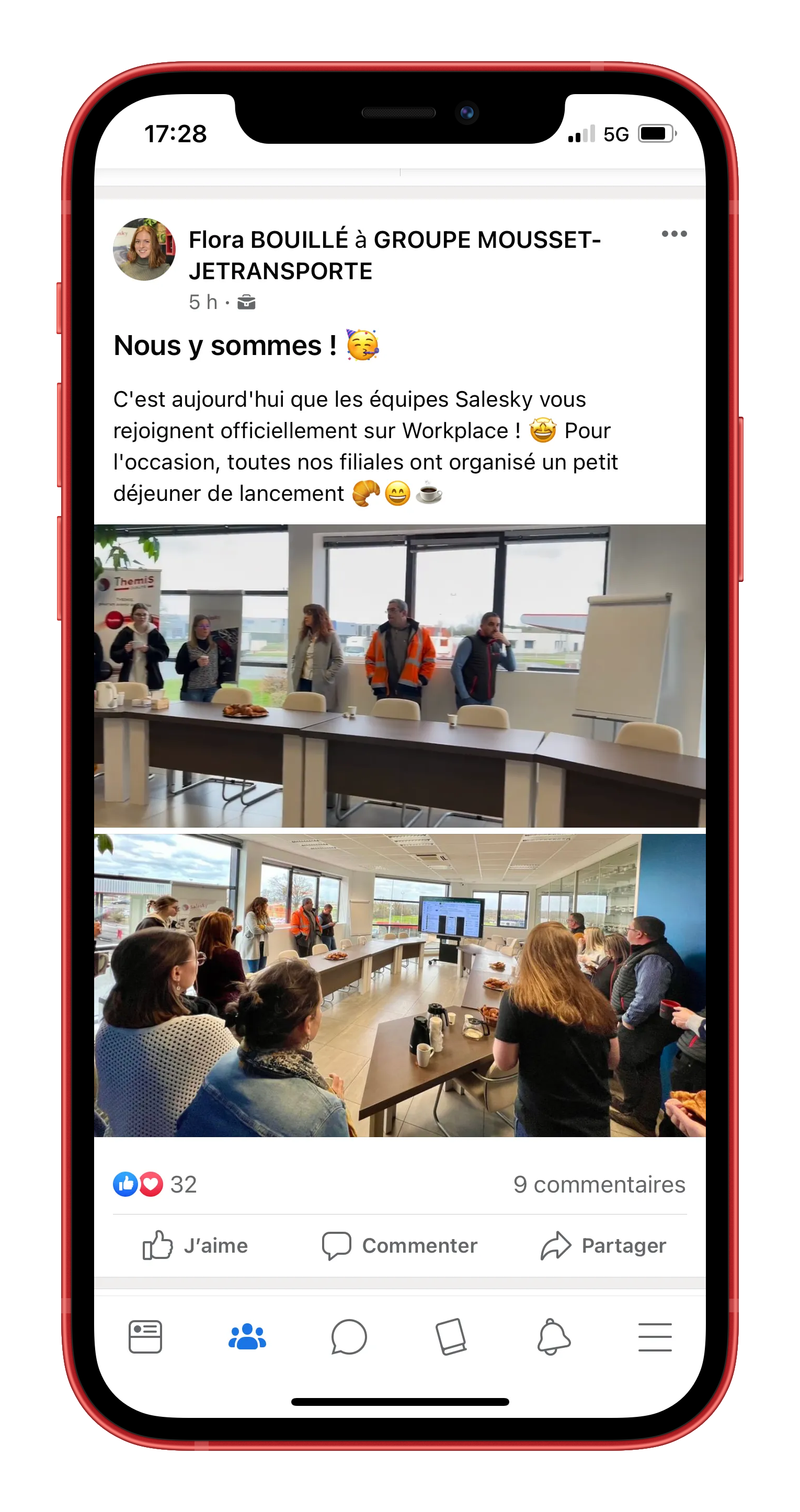 On the day of the launch of Workplace, Frédéric Leblanc, CEO of the Mousset-Jetransporte Group, and Isabelle Gaudin Rouillard, Director of Human Resources, spoke via a live video on Workplace: for the first time, all employees, whether they are at the head office or at the other end of France in their vehicle, can meet in the same place and take part in the life of their company.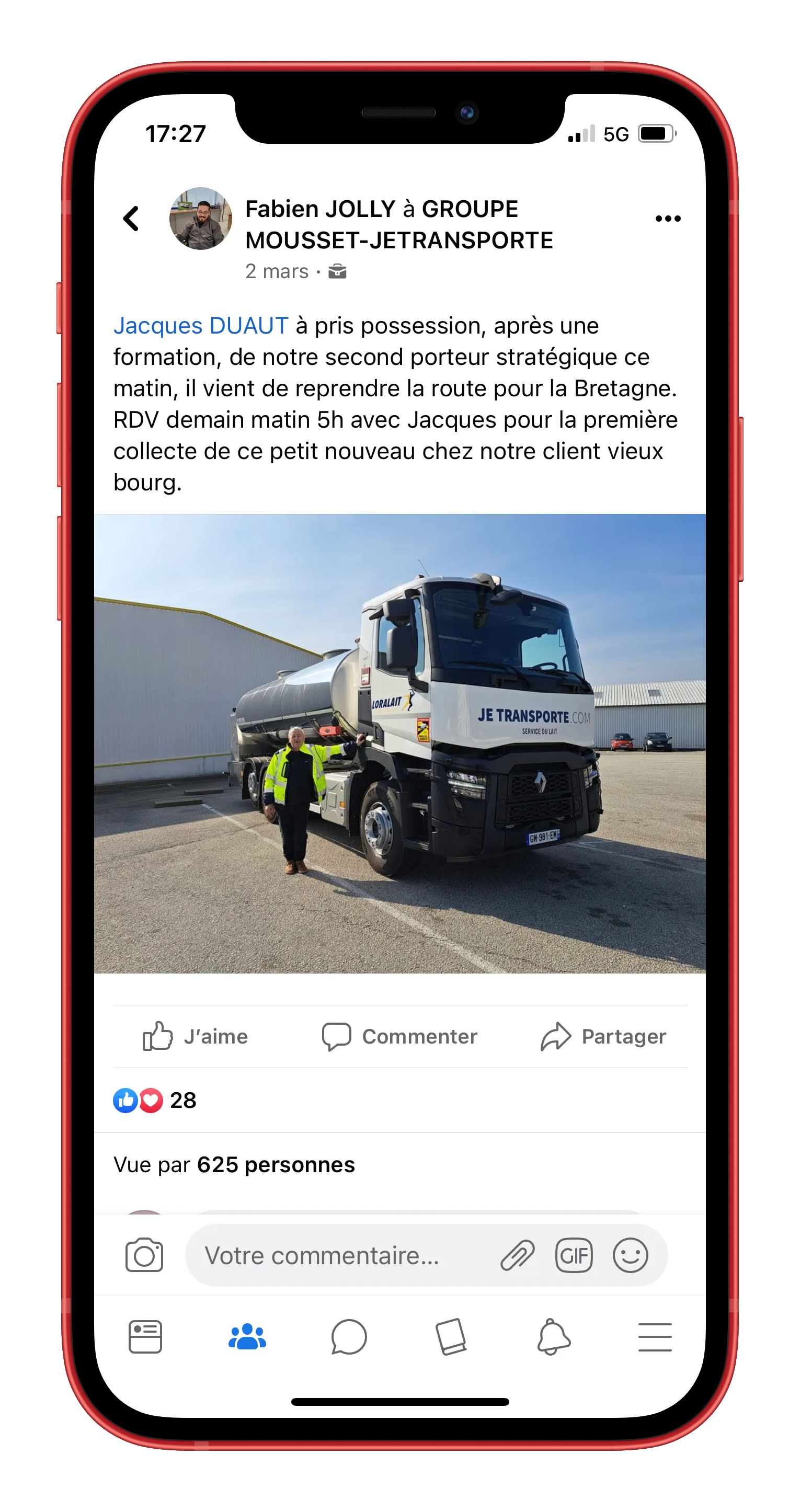 Results 
 The Mousset Group has seen an 80% adoption rate of the Workplace from Meta platform; it has had a real impact.  
"They love to talk about their equipment, their merchandise, their trucks, road conditions, or even to get together around common passions such as motorcycles. Beyond their job, they get to know each other".   
In addition to bringing all employees together so they can meet and interact, Workplace has enabled employees to engage with rich content: posts, comments, reactions (like, wow, I love…), live videos, gifs etc.  
"Let's just say that now we eliminate a lot of email to share, escalate or push information down. We now do posts or live which is much more attractive.  Instant messaging or posts allow teams to stop feeling like they are doing administrative work. The exchange of information is really streamlined and it also breaks down hierarchical barriers."  
Workplace has simplified processes by cutting out the middleman: before an employee had to go through several steps to report a problem, they can now report the information more quickly and the problem can be dealt with within a day. Thanks to an equally effective use on mobile via the Workplace and Workplace Chat applications as on the computer, all employees are now autonomous in taking information.    
 Several months after the launch, many employees are still reporting their satisfaction with the platform. 
What happens next?  
The Mousset Group recently integrated a new subsidiary: Salesky Transport. The Cloudity teams renewed their support by integrating 400 new employees on Workplace from Meta.   
"They are very happy, coming together with them went very well and they wanted to exchange best practices with us so they were very interested in the idea. "   
Today, 1700 employees use Workplace from Meta. 
If you would like deploys Workplace from Meta in your company, do not hesitate to contact us by clicking here.
About Cloudity  
Cloudity is an IT consulting and services company and a Salesforce and Workplace from Meta integrator. Its mission is to accelerate the strategic, organizational and technological transformations of numerous companies.   
Their teams, composed of architects, multi-certified consultants and developers, work with you to offer a more complete and personalized customer experience to boost your competitiveness.