List views, Salesforce Inspector; Sales Representative and Release Winter'24, here are the themes of these episode.
We've

now hit the halfway mark of our summer series. We hope

you're

still enjoying our content as much as ever!

We've

got plenty more in store for you, so no

way

you'll

be bored at the office in August if your colleagues have left you all alone!
Our UX tip of the week: 5 things you might not know about your list views
Sharing and Editing Permissions: 

These permissions are a bit of a "double-edged sword.": if you want to give your users the ability to share the list views they create (a classic requirement), they will also have the right to modify all shared list views with them. It's better to reserve these permissions for super users, to prevent changes, whether relevant or not, from impacting multiple users without proper communication.

 

Even if a user can't share their list view, they still have the right to create one for themself. So, don't hesitate to show them how during training: more independent users lead to better adoption!

 

Split Mode: Incredibly handy for easily navigating between several records for viewing/editing (see Point 1 in the image below).

 

Kanban Mode: Especially useful for leads and opportunities, displaying records by stage, with an accumulated metric of your choosing (see Point 2 in the image below).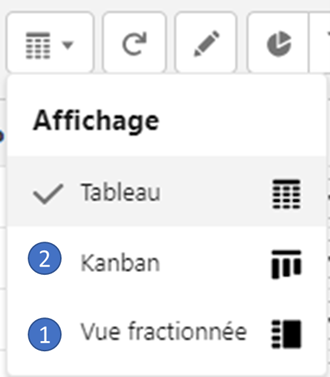 Inline Editing: If your list view is filtered by a record type, then inline editing is possible – handy for quickly editing one or several records (does not work for all field types)

 

List views are also available for events!

 

It's a bit hidden, but when you click the highlighted button below, the "table" view takes you to the classic list views.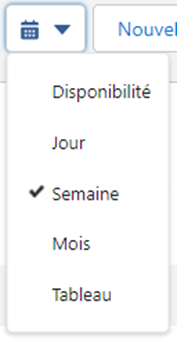 To prevent landing on the "calendar" view every time,

don't

hesitate to pin the list view to your navigation bar! Just click the chevron on the right side of the tab

, that opens it in a new tab and click on the chevron again to pin it.

 
In addition,  you can even name the tabs you add. Simply click the "pen" icon on the right side of the navigation bar. 
You can also rearrange all the tabs, either in the tab menu or directly on the navigation bar. 
That's all you need to give your list views some extra pep! 
Our Favorite Tools: Salesforce Inspector
For this month of August, we're kicking off a new section in our summer series! We're shining a spotlight on tools that help us in our consultant lives and will surely assist the admins and other consultants who are reading. 
This week, we introduce you to Salesforce Inspector! There's a good chance you're already familiar with this tool, either closely or from afar. It's a Chrome extension that's as subtle (a little button appears transparently on your org) as it is powerful.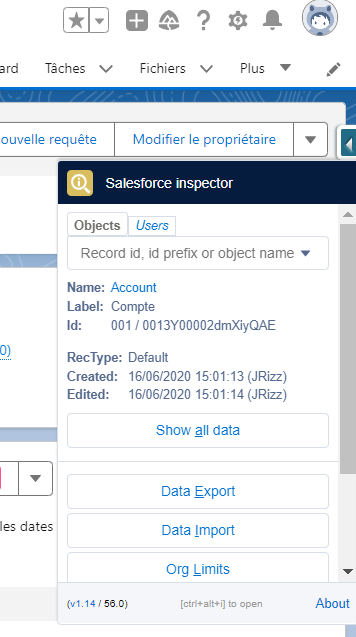 Here are 4 features of Salesforce Inspector to beef up your Salesforce management: 
Explore all record data: When you're on a specific record and click "All Data," you gain access to all fields and data of that record, even if the field isn't on the form. You can even modify this data! Handy for interacting with technical fields.

 

Export data: Through a standard SOQL query, you can easily query the database and even export it in Excel format.

 

Import data: Perhaps the most powerful feature of Salesforce Inspector. By simply copying and pasting an Excel range, you can easily update or create records in bulk! Just make sure to take the time to name the columns with the technical field name, allowing Inspector to map automatically the column. You can do this manually, of course, but it can take time, especially since Inspector doesn't save the mapping. For those not mastering Data Loader or even more complex tools, it's honestly simpler and more powerful than the Data Import Wizard.

 

Easily access metadata and "login as": When searching for an object, you can access all fields of that object. You even have access to several field attributes in a list, where you only have a simple list in the object manager. And when searching for a user, you can use the "login as" feature. This shortcut doesn't work perfectly, but it's there.

 
With Salesforce Inspector, you have no more excuses not to take care of your org, starting this summer and beyond! 
Our Certification Recommendation of the Week: Sales Representative
Here's a brand new certification (it was released in May 2023) that's quite different! It delves into sales methodologies, beyond the traditional technical and functional considerations we're already familiar with from other certifications. 
This certification covers Salesforce features to a relatively limited extent. Instead, it focuses on sales processes and best practices, both from a managerial perspective, such as territory and goal management, and from the perspective of the salesperson themselves, for example, on prospecting. 
Here's the breakdown of the different evaluated sections: 
Planning: 21%

 

Customer Engagement: 15%

 

Deal Management: 37%

Pipeline Management: 12%

 

Forecasting: 6%

 

Customer Success: 9%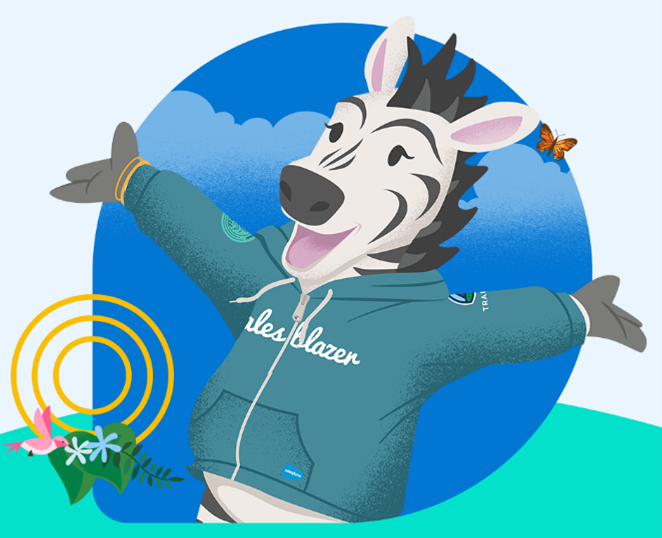 The target audience should have between 6 months and 3 years of sales experience, which is consistent with the certification being quite theoretical and heavily focused on terms and processes. Still, it remains innovative, with modules like "Design Thinking for Sales" and "Relationship Selling." A true toolbox to rely on when you still have relatively little experience, and a good refresher for more seasoned sales professionals. 
The fact that this certification isn't aimed at very experienced professionals makes it accessible and highly relevant for Salesforce consultants. It sensitizes them to foundational sales concepts, which they can use in implementing Sales Cloud, particularly in terms of territory management, opportunity stages, or reporting, whether it's during workshops, configuration, or training.  
Even more experienced consultants and admins will likely recognize key elements of the Salesforce sales approach. In fact, you can even suggest it to your sales colleagues if you're working at a Salesforce partner consultancy or ISV! 
It's quite demanding, given its diverse content, as we've seen, and because it requires a minimum score of 70%. However, for now, there are only three choices provided for answers, not four, and no multiple answers possible, which makes things a bit easier. 
Interesting to note, this certification is launched alongside the promotion of a new community in the Salesforce ecosystem, the "Salesblazers." They have a dedicated group, Trailhead modules, and a mascot! Meet Zig the Zebra! 
It's not surprising to see this new certification and, more broadly, the communication targeted towards "Salesblazers." The Sales Cloud module remains a significant part of the Salesforce solution, and it's important to directly engage with end users to enhance their loyalty: Managers, Admins, Salespeople, and even Salesforce themselves all stand to gain from this approach!
What you should not miss!
We were talking about the Winter '24 Release last week, and things are shaping up! 
First off, check out the traditional release mascot! Genie, the mascot of Data Cloud, takes the spotlight.

 

Furthermore, we now have the confirmed dates: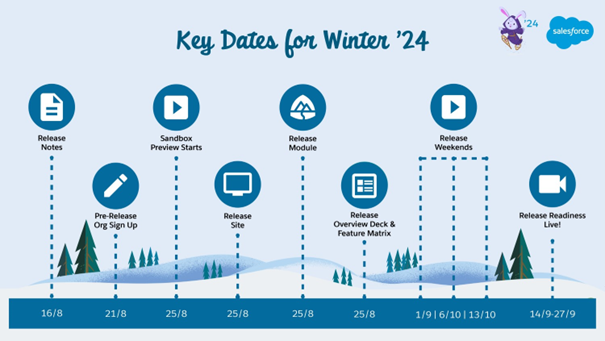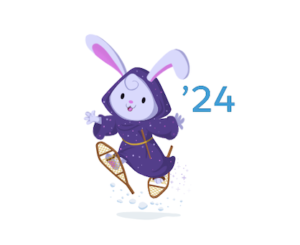 GPT Dreamin started on Monday and runs all week: sign up for free to watch 2 live sessions every day this week and catch the replays next week!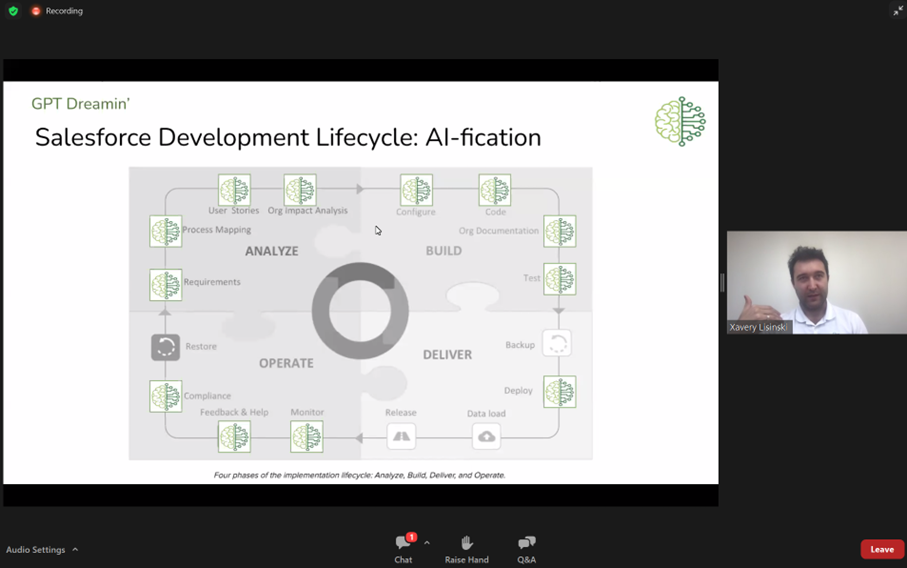 Salesforce Days (for partners): Live sessions are on hold for now but make the most of the summer to catch up on all the replays! 
That's all folks! Not too bad, is it ? 
See you next week! 
Article written by Jean-Pierre Rizzi, Salesforce project manager and consultant.