The community of fellow Trailblazers, led by volunteer admins or consultants, is very very active. Whether it is with Trailblazer Community Groups – people meeting regularly throughout the year or Trailblazer Community Events – bigger, yearly events, you have many chances to exchange and learn!
And most recently, it was a big first for Automation Dreamin' !
It was created by Mark Jones and Vicki Moritz-Henry. In the opening keynote, Mark (who also has a great blog) told us that he came up with the idea in 2019 as he wanted to do one event for the North of England, his local area. Ultimately, as he had been focusing on automation subjects, especially flows, in the community, more particularly with his Community Group, the idea of an event focused on automation became natural. And Vicki joined. Stronger together!
According to us, this event is successful for 3 main reasons:
It is focused on Salesforce platform automation: a topic both rich, complex and always in demand, in any Salesforce Implementation project, so the skills are very sought after. It well deserved a dedicated event,
It is very technical: this event is "for the admins, by the admins", with daily use cases, real-life demos. It's closer to a TrailblazerDX than to a Dreamforce.
It deals with a wide variety of clouds: Experience Cloud, Marketing Cloud, Pardot, Mulesoft, Omnistudio, Slack, etc.
In any case, with 39 videos and almost 20 hours of content, there is something for everybody! Find the complete playlist here.
Below you will find 3 sessions which we particularly liked.
How to Use Login Flows
Yosra Saidani, Salesforce Architect at CLOUDITY, Lightning Champion, and co-organiser of French Touch Dreamin'.
This session was very interesting because it reveals how you can customize a specific part of the User Experience which we could otherwise see as a "black box": login page !
As an example, yosra Saidani shows us how you can use this login screen to propose the users to accepter terms and conditions when logging in Experience Cloud.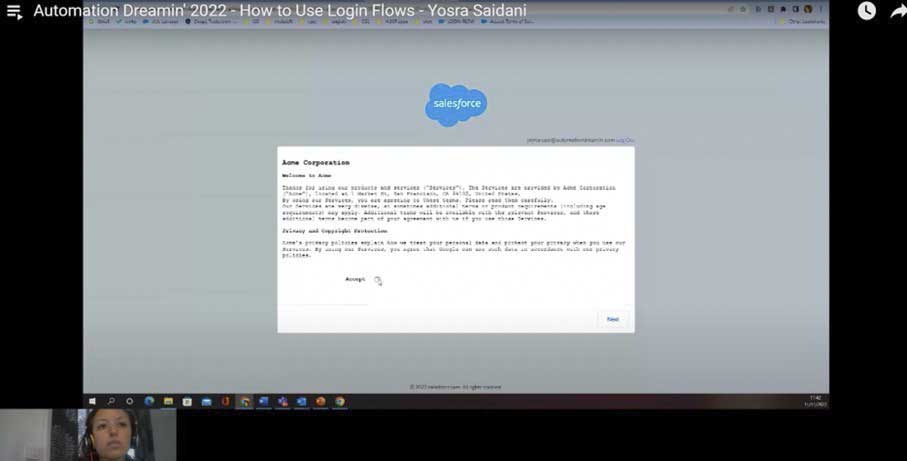 This is what you can expect in Setup – we can clearly see the components specific to the login UX: "BlockUser" and "DisplayMessage".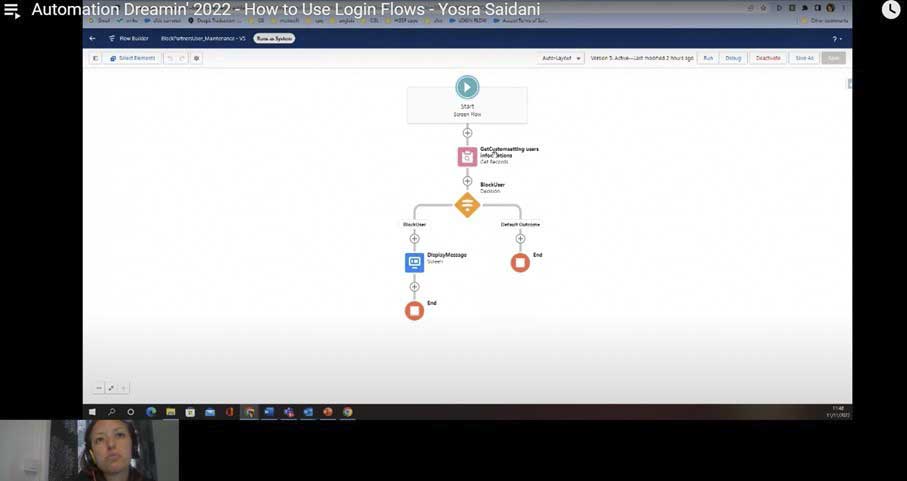 Automate Your Business Processes with Salesforce Flow Keynote
Diana Jaffe, Senior Director of Product Management, Salesforce
Diana gives us some insight into no-code automation solutions offered by Salesforce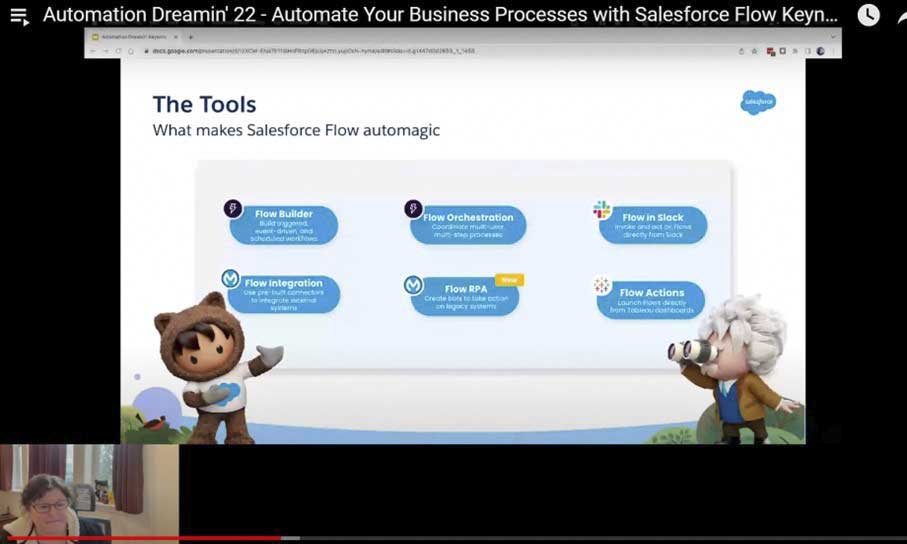 It is an excellent session, both for beginners and intermediate admins, who will discover the width of the automation solutions, and for more seasoned admins and architects, who will learn more about the roadmap, from the 37th minute.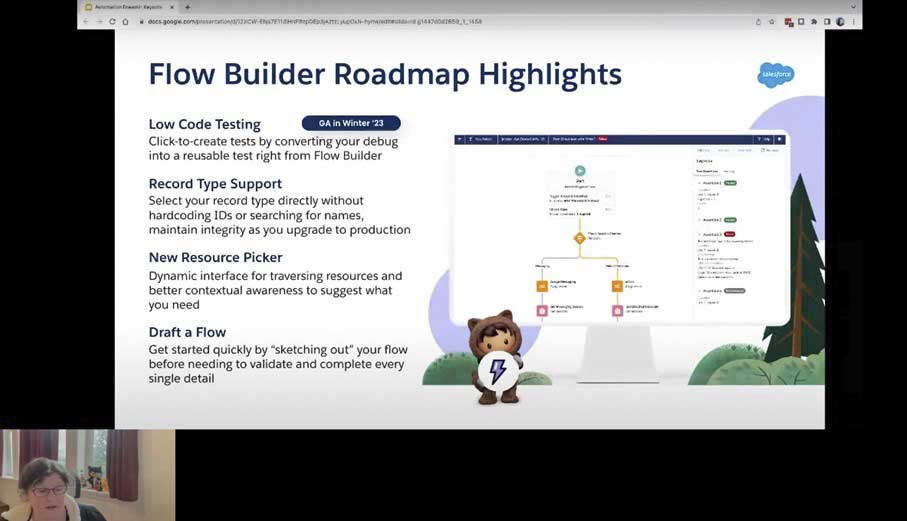 How I Improved UX with Flow
Martin Humpolec, Senior Salesforce Consultant with PwC and Salesforce MVP, and organiser of CzechDreamin!
Beyond complex business processes, Martin shows us the use case of flows concretely serving the UX, like updating campaign membership based on a dynamic choice on the screen: not rocket science logic but helpful and time-saving experience!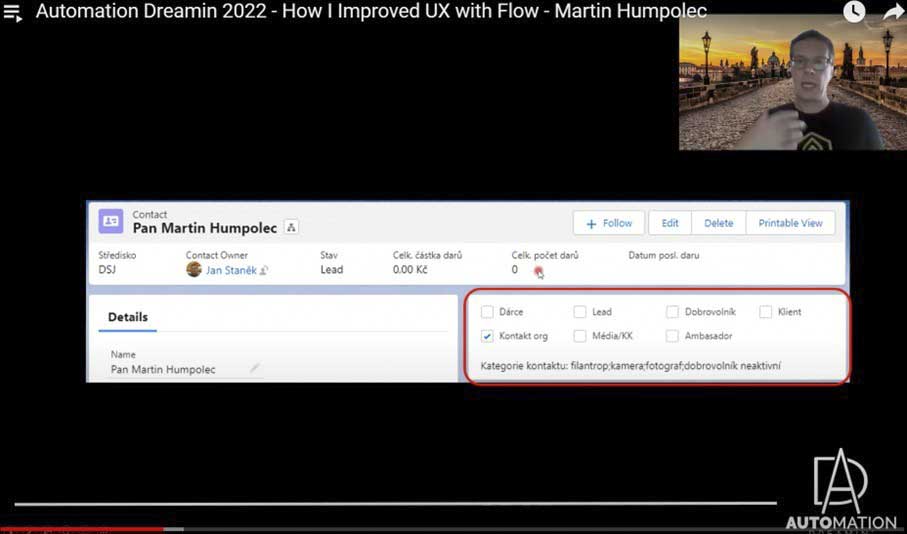 Live long and prosper Automation Dreamin'!
And that's not all folks!
The Trailblazer community is particularly active these days! Indeed, as we are finalizing this article, 2 events are taking place in Paris:
On December 1st, in person, and with sessions recorded and available on Youtube very soon – this is the key French event for the Salesforce Trailblazer Community – we will write about it of course!
On December 2nd, YeurDreamin's little brother, dedicated to architects, in person as well.
YeurDreamin' is the Benelux Trailblazer Community event, whose second edition took place in May 2022.
Also, very recently, the SForce Summit took place in Poland. This event was mainly in Polish, but a few sessions were in English, including the one about Revenue Cloud, led by our colleague from our Cloudity office in Poland, Xavier Marette. It'on on Youtube, check it out!
Moreover, in October, the North African community met at North Africa Dreamin', check out their sessions!
Finally, from December 9th to December 11th, join some Trailblazers on the slopes of Tyrol, Austria, for Skiforce!
As you can see, the number of conferences in the Trailblazer Community is huge! Not only do they gather many members, Admins, Consultants, Architects and Developers, but they are also an amazing source of information! We are looking forward to meeting you at these events in the future!
Article written by Jean-Pierre Rizzi ☁️