As the year draws to a close, the news from Salesforce is coming thick and fast—especially on the marketing side. Read on to find out what's new with the Winter '23 Release of Marketing Cloud Engagement, and discover the features we can't wait to start using!
Content Builder
With interactive emails, subscribers can engage with messages from their inbox thanks to integrated web functionality. For instance, hover effects and product evaluation forms are incorporated into emails. The image carousel block is available for interactive emails, with support for 10 email clients and up to 10 images without code. The design has also been revamped and the templates have been updated to better accommodate users who use a screen reader.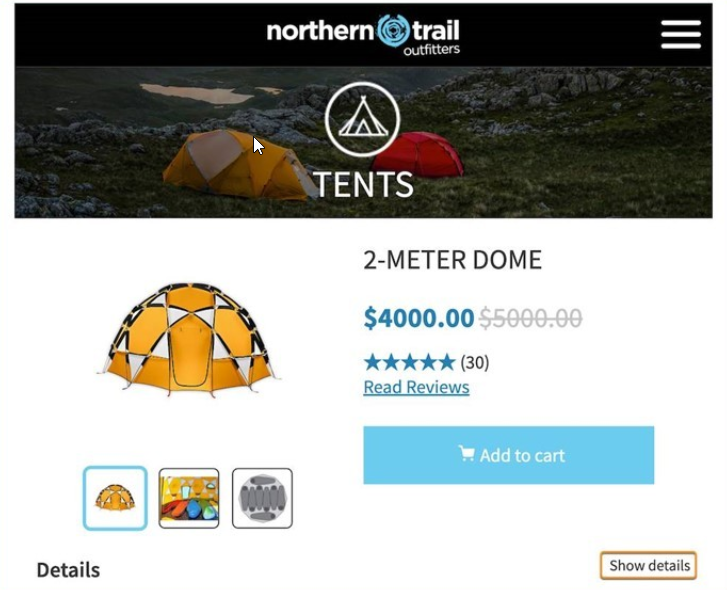 Optimize content with Einstein Content Testing
Einstein is a hot topic at Salesforce, with new improvements and features making for even smarter marketing campaign management. The new Einstein Content Testing feature, available in Content Builder, lets users easily run manual and automated tests on variations in content as a way to optimize engagement. The tool supports large-scale A/B/n tests on up to 32 images at a time, allowing Einstein to learn and select content when subscribers open and interact with emails, and displaying real-time asset choice and engagement rate analytics.

Automation Studio
There have been some major changes on the automations front:
Import and export beyond SFTP: Azure, Amazon S3, Azure Blob Storage, Google Cloud Storage
Trigger, a new automation source ;
Einstein Engagement Frequency (EEF) helps marketing specialists send the correct number of emails to individual subscribers within an organization. The feature, which is available in activities and in Journey Builder, lets marketers trigger sends to specific segments, for instance ;
In Automation Studio, the new _AutomationInstance and _AutomationActivityInstance activity Data Views improve automation health.
Engagement Digital Command Center for Slack
Since acquiring Slack Technologies in late 2020, Salesforce has deepened integration between the collaborative platform and its own solutions. A new app, called Digital Command Center, is now available in Slack. It lets you easily monitor your Marketing Cloud Engagement journeys and automations. With the customizable interface, you can take immediate action when an error occurs, such as alerting a user if an automation fails. You can also create alert management rules. It's a paid app, but a free trial is available.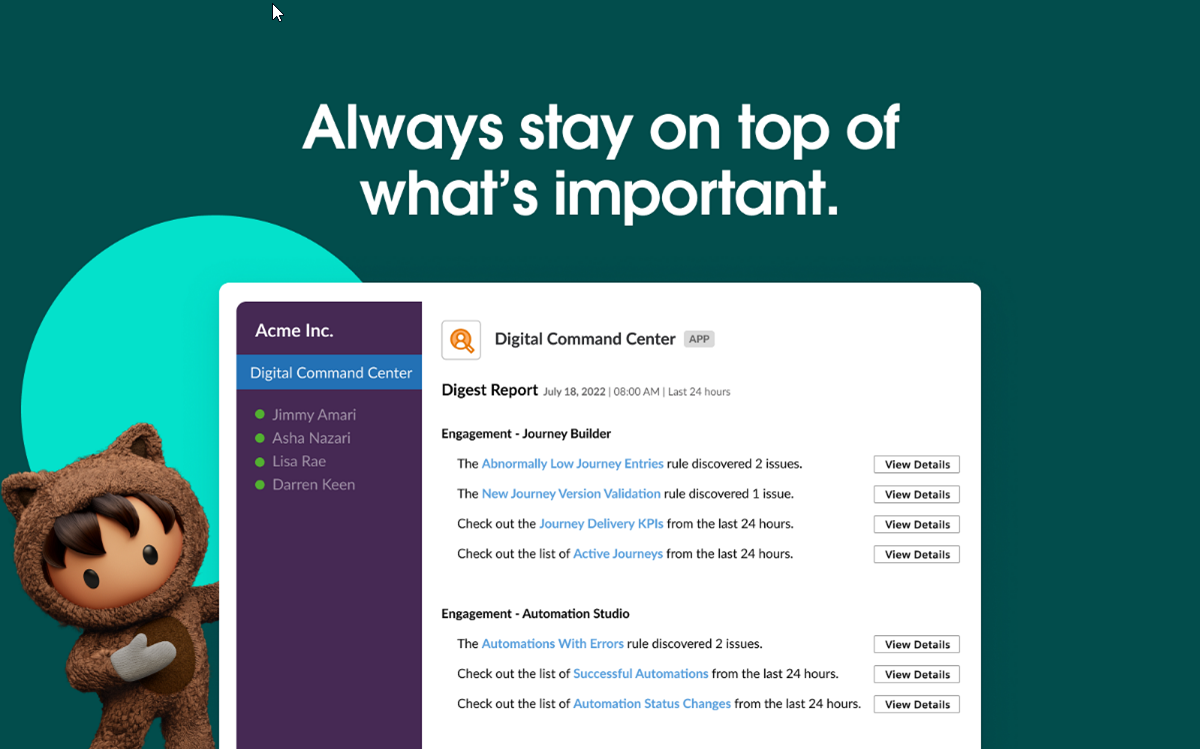 Best practices in Journey Builder
In the new version of Marketing Cloud Engagement, Journey Builder issues a user warning when it detects improperly or inefficiently configured Journeys, serving up tips to maximize performance.
Intelligence Reports (Datorama Reports for the old-timers)
Salesforce Datorama has been rebaptized Marketing Cloud Intelligence. In another name change, Marketing Cloud Datorama Reports is now known as Intelligence Reports for Engagement—a new way to generate, view, and share a detailed analysis of your email, push, and journey campaign-level data. The tool, which lets you optimize performance and boost customer engagement, is available in two versions. Intelligence Reports for Engagement (standard version) generate, view, and share a detailed analysis of your email, push, and journey data at campaign level. Intelligence Reports for Engagement Advanced (paid version) is a premium upgrade of Intelligence Reports, with more features and analysis capabilities.

Contact the experts at Cloudity for more information about what's included in the Winter '23 Release of Marketing Cloud Engagement.