The new Trailblazer ID account, UX Designer your next certification, cross filters for supercharged reports
Wow,

summer

is

passing by

so

quickly

!

They

say

time

flies

when

you're

having

fun, and

we

are

definitely

having

a blast sharing

various

information and

resources

with

you

this

summer

.

We

hope

you're

enjoying

reading

them

as

much

as

we

enjoy

sharing

them

.

Let's

dive

into

the 3rd

episode

of

our

summer

series

. If

you

have

any

questions,

comments

, or topic

proposals

,

don't

hesitate

to contact

us!
The news of the week: the new "Trailblazer ID" account
Goodbye "Trailblazer.me," hello "Trailblazer ID"! 
"Trailblazer.me," you don't know what it is? Well, that's what you used to log in to Trailhead until now! But this weekend, it underwent a major change and became "Trailblazer ID." This new development is primarily one of the results of Salesforce's significant effort to unify its data over the past few months, as we had discovered in this LinkedIn post :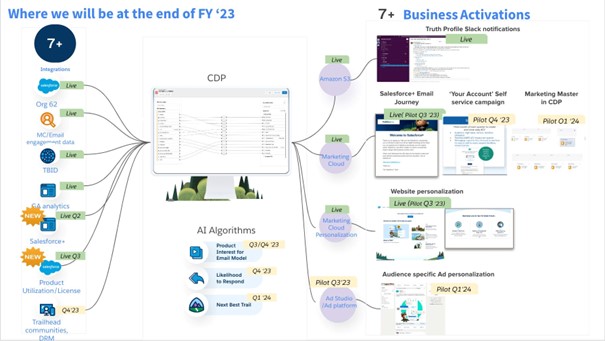 This weekend, the unification effort reached a major milestone with the deployment of the new authentication system. Here are the main concrete benefits: 
A new login page:

https://digital.salesforce.com/

 

Accredited Professional credentials (reserved for Salesforce partners), Slack, Mulesoft, and Tableau are now visible on the Trailblazer profile alongside Salesforce certifications. It's even easier to identify our team members' skills!

 

You can download the logos of these accreditations directly from the profile, making it convenient for creating presentation materials.

 
Trailblazer Community Groups, led by Trailblazers like our colleague Yosra Saidani for the WIT Paris Group, are now listed alongside other online groups in the Trailblazer Community (like the Release Readiness group, for example). This further unifies the community experience on a single platform (remember when the Trailblazer Community was not linked to Trailhead?)

 
For more details, don't hesitate to read this interesting post by Mark Jones.  
Thank you, Salesforce, for investing in and innovating with the Trailblazers' user experience! 
UX Designer: Your next certification?
Let's continue with additional certifications for admins: the User Experience (UX) Designer certification!  
This certification is very interesting as it covers a wide range of user experience aspects in a very practical manner: 
Discovery: 13%

 

User experience (UX) fundamentals: 16%

 

Human-centered design: 12%

 

Declarative design: 27%

 

Testing: 11%

 

Salesforce Lightning Design System (SLDS): 21%

 
This certification is particularly suitable for admins who are not yet very familiar with UX Design. It does not require in-depth knowledge of this discipline, only a few months of experience dealing with basic concepts. Additionally, more than a quarter of the questions relate to Salesforce configurations, and nearly a quarter focus on skills that admins typically explore in their activities, such as discovering business processes (using personas and process mapping, for example) and testing. 
An added bonus is that it doesn't require any prerequisite certifications. Profiles like project managers might be interested in this certification to get a taste of the Salesforce context. 
Cross filters: For supercharged reports!
You probably already know how to apply filters in your reports. The fields from the objects included in the report type and (potentially) their parent objects are available in the report builder, allowing you to display only the desired subset based on a combination of criteria. For example, displaying only my opportunities with a certain status and a certain amount – that's great!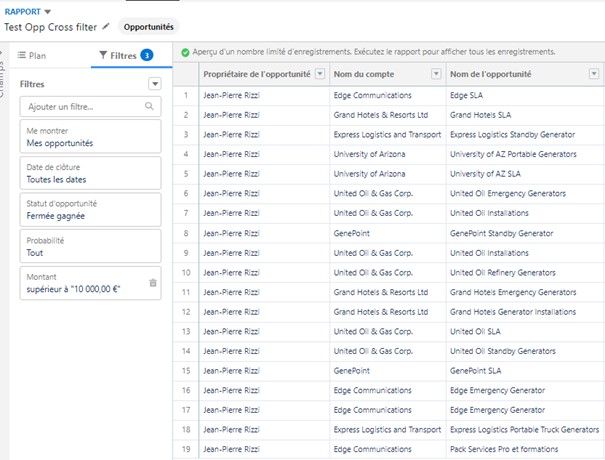 But let's imagine that we need to go further. A cross filter allows you to display parent object records in the report based on the presence or absence of child records or a value in a child record field. 
A cross filter can help you at two levels (literally !): 
With / without: This allows you to retain parent records only if they have records from a certain child object or not. For example, opportunities with products – opportunities without products will be excluded from the report.

 

Filtering based on child record field: This allows you to specify whether you want to filter based on a field in the child record while still "modulating" with/without. For example, opportunities with products that have a specific name (see image below) or opportunities without products with a specific name.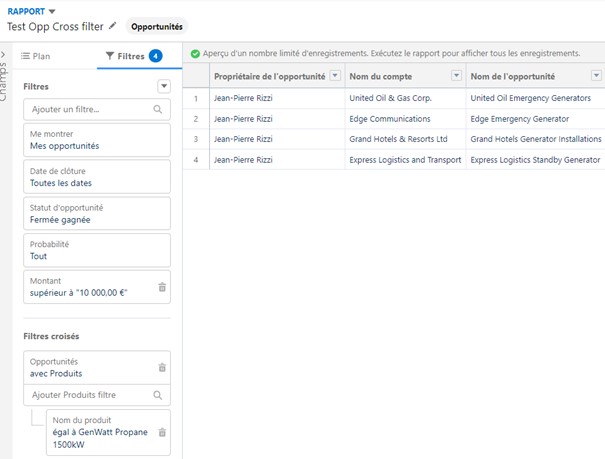 In fact, our example shows that even custom fields are accessible in cross filters. The product name is not a standard field on the opportunity product cross filter, so we need to create a formula field to retrieve it. 
With cross filters, you are now equipped to supercharge your reporting. But be careful; there are important considerations to take into account. For more information, consult Salesforce Help here. 
Generative AI at Salesforce: It's serious!
So, Salesforce is indeed offering us a true "Summer of AI"!  
Let's have a quick recap: on June 12th, during a special event called "Salesforce AI Day" Salesforce launched its grand summer offensive on artificial intelligence. We highly recommend watching the first video; it's full of information! Among other things, they presented the roadmap you see above 
This AI summer reached its first milestone a few days ago with the official launch of Einstein GPT and its public availability: 
But then, what is Salesforce actually launching? 
First and foremost, Salesforce aims to launch a complete suite of AI-based solutions: AI Cloud.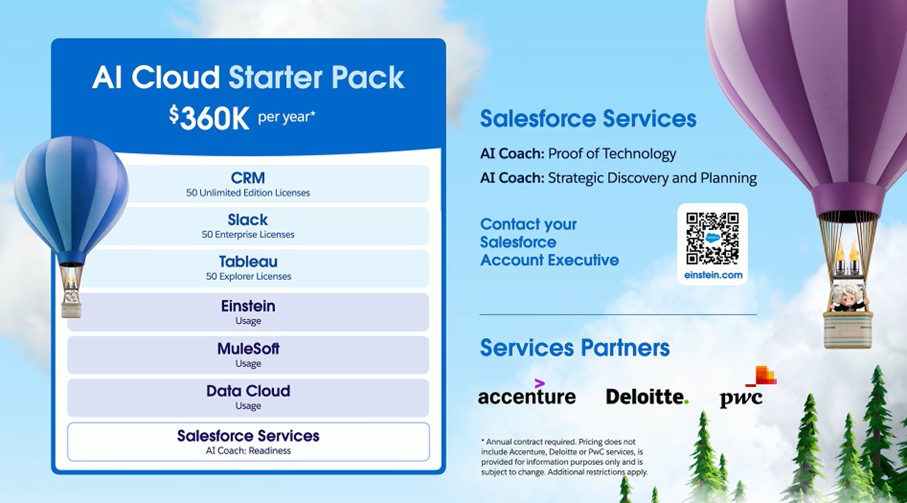 Beyond this packaged offering, as we have seen, Salesforce is also launching offerings by module: 
SalesGPT is, in fact, a set of new features included in the Sales Cloud Einstein module, available as an add-on to Sales Cloud (public price $50/month), except for Unlimited customers who already have access. SalesGPT already includes the "Sales Emails" feature.

 

ServiceGPT follows the same pattern, but for Service Cloud, with dedicated features such as "Service Replies" and "Work Summaries".

 
So, Salesforce is indeed rolling out the roadmap presented in June! 
But that's not all! The word that often comes up during presentations about AI by Salesforce is "trust": how can we have 100% trust in generative AI in the Salesforce context?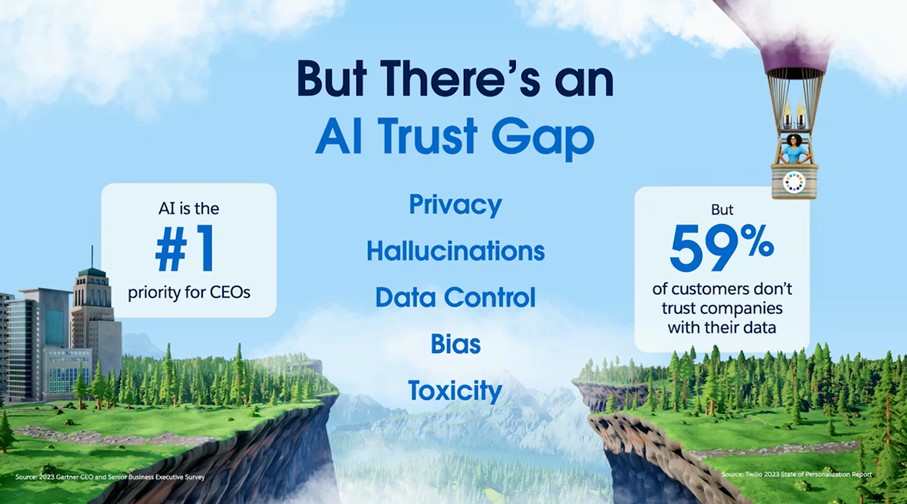 Well, the other major launch by Salesforce, in support of generative features, is the EinsteinGPT Trust Layer, which aims to protect data between the CRM and generation models with a set of protocols.