Wow! 7! That's a good number, right?! Here's a new episode of our summer series! On the menu this week:
Our reading recommendation: "Rock your role as a Salesforce Admin" by Jodi Hrbek

 

An essential tool: Salesforce Backup

 

The perfect certification to discover Salesforce: Certified Associate

 

News not to be missed.

 
Happy reading! And make the most of it, our summer series concludes next week!
Rock your role as a Salesforce Admin: our reading recommendation of the week!
Jodi Hrbek delivers a wealth of practical information in this book that will help admins (and consultants too) better manage their tasks around Salesforce configuration, from both communication and methodology perspectives. The ambition of this book is to transform the role of a Salesforce Admin from being an order taker to a partner capable of adding even more value to the business, while establishing a healthy framework for their activities. 
From engaging stakeholders to managing tickets and gathering requirements, Jodi Hrbek imparts practical advice, real-life anecdotes, examples of questions to ask, varied phrasings, and highly relevant "do's & don'ts" over 252 pages. These elements support a solid and well-written argumentation. 
Here's an example with Chapter 6, "Provide Context," that we particularly liked: 
The author suggests proactively sharing with stakeholders how Salesforce can be customized based on expressed requirements: simple configurations – while still adhering to best practices in configuration and deployment – complex configurations, and development.

 

The advantages of such an approach are detailed, all this being supported by a real-life example.

 
Four sample phrases provide inspiration for discussing the subject concretely with stakeholders.

 

Two practical tips conclude this chapter.

 
Each chapter can be read independently, and each piece of advice is immediately applicable! 
We warmly recommend this book! 
And feel free to follow Jodi on LinkedIn; her posts are always very interesting!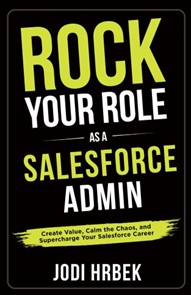 Our tool of the week: Salesforce Backup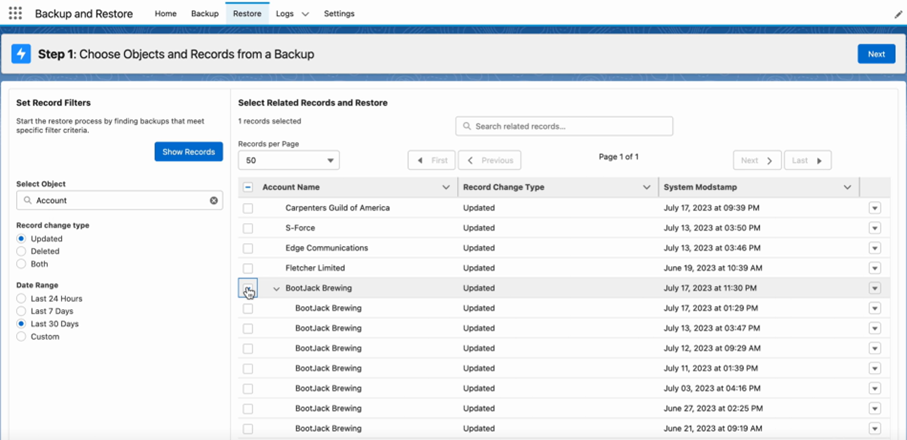 It must be said, this tool is very different from the first two we've presented… Firstly, it's a paid tool. Sorry… 
BUT… 
If it's different – and paid – it's mainly because this tool is essential! Its price is fully justified. In fact, almost all other alternatives on the market are also paid. Even if you don't intend to implement Salesforce's solution, we recommend looking at other tools. We're not talking about a mere "assistance" to boost your productivity; this is about protecting your data! 
Of course, Salesforce offers a free standard feature, but it's far less powerful! 
One of the main tasks of a Salesforce admin or consultant is ensuring data quality: validation rules, field history, picklists, and so on. Tools abound to ensure consistent and complete data. 
Truly complete? That's where a backup and restore tool comes into play. Unfortunately, risks of data corruption can be significant: an automatic batch that glitches, a mass update gone awry, malicious actions… Backup and restore functionalities serve as (almost) comprehensive insurance for your data. 
Beyond the standard functionality, how does a sophisticated tool guarantee better backup? It will allow: 
Automated backup

 

Programmable timing and scope

 

Handling a massive amount of data

 
Furthermore, this tool lets you easily visualize your backed-up data. 
But a backup, no matter how good, means nothing without proper restoration capability: you must be able to rectify errors in the org, sometimes within a very short timeframe, to avoid putting your users on technical standby, or worse, to prevent a client incident. A sophisticated backup and restore tool will enable you to: 
Set up alerts if certain data is modified/deleted in excessive amounts.

 

Target compromised records, fields, even view before/after values.

 

Correct data at the push of a button, without needing to import or update via third-party tools, all while retaining links between records.

 
The best investment you can make for the upcoming season! 
Salesforce Backup is now globally available, learn more here. 
Looking for a less expensive alternative (but without the Lightning interface and requiring manual connection with Salesforce)? Try Skyvia. 
The featured certification this week: Salesforce Certified Associate
Here's a recent Salesforce certification that stands out from the other certifications we've presented. Indeed, this one isn't aimed at admins – beginner or experienced – but rather at individuals looking to venture into Salesforce and/or its environment, who don't yet hold any certifications. It's a perfect introduction to the Salesforce ecosystem and its major functional concepts. 
The following profiles are excellent candidates: 
CRM Project Managers discovering Salesforce at an integrator.

 

"Accidental" Admins or Client-side Project Managers encountering Salesforce during a project.

 

Salesforce users looking to showcase their knowledge, perhaps even becoming a "super user".

 

Anyone in touch with the ecosystem, yet without a functional or technical role, wanting to leverage their experience in the ecosystem before moving towards a consulting role, for instance.

 
The 40 questions are distributed as follows: 
Salesforce Ecosystem: 32%

 

Navigation: 28%

 

Data Model: 25%

 

Reports & Dashboards: 15%

 
Revision of the "Data Model" and "Reports & Dashboards" sections shouldn't be neglected, as even if there's nothing particularly technical, the questions are about configuration settings and can be quite intricate. 
Candidates can easily prepare for this certification using Trailhead and practice exams prepared by Salesforceben. 
Good luck! 
Not to be missed: many updates this week!
New feature on Trailhead!

Salesforce Stamps

! To showcase your presence at Salesforce and community events

 
And because it's been a while, some AI news from Salesforce!

 

New edition of "AI Day":

following the summer edition, AI Day returns with new episodes, including ones dedicated to industries. It's also been announced that a "Generative AI" certification will be introduced at Dreamforce!

 

Bring your own Model

: earlier in August, Salesforce launched a new feature, "Einstein Studio," which allows companies to train their own AI model using their data via Data Cloud.

 
Sandboxes will be upgraded to Winter '24 this weekend.

 

MFA:

 
 That's all for this week! See you next week for the final one! 
Article written by Jean-Pierre Rizzi, Salesforce projects manager and consultant.
Salesforce backup, certification Salesforce Certified Associate, Rock your role as a Salesforce Admin : our reading recommandation of the week !