UX/UI, Reports and Dashboards, AI & Data Cloud, Our 4 Certification Recommendations to Expand Your Admin Role
We are back to school! And with that, we're wrapping up our summer series. If you've enjoyed this "saga," please let us know and share it. If there's room for improvement, don't hesitate to share your feedback!
We're concluding Summer @ Cloudity with a recap by theme, along with a bonus article recommending a book we wholeheartedly endorse.
Have a wonderful back-to-school season and see you soon for more content!
UX/UI: Making It Easier to Add Value to Your Users
As you know, we love to highlight Salesforce configurations and tools that can easily be put into the hands of users. These quick wins are ways to kickstart your Salesforce project, support adoption, or showcase project progress while waiting for more complex features. 
Here's a summary of our tips: 
Reports and Dashboards: Presenting Data Even Better
Reporting is a bit of a reward for users who diligently fill in various fields. Offer them an even more beautiful reward with these practical tips, some of which can be used directly by end users. 
Here's a summary: 
Summer Innovations: AI & Data Cloud
This summer at Salesforce, it was the "Summer of AI." Of course, we know you, and we've avoided bombarding you with that all summer. 
Let's quickly recap what we discovered at the beginning of the summer: 
 But that's not the only major innovation this summer. Indeed, Salesforce is increasingly focusing on Data Cloud! The "Accredited Professional" credential, previously reserved for partners, will even be transformed into a certification in early September to allow all Trailblazers to enhance their skills with this major tool. 
Our 4 Certification Recommendations to Expand Your Admin Role
Salesforce has been very active in launching new certifications in recent months, and we couldn't ignore them. Here are the certifications we recommended to admins to help them enrich their cross-functional skills: 
There's something for everyone! 
Tools to Make Your Return Easier!
More skills, but also more tools! Here are our 3 recommendations for installing urgently: 
Our Summer readings… Or read them all year round!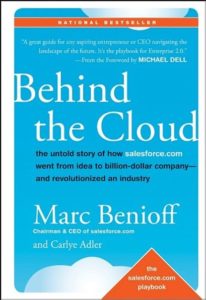 "Behind the Cloud" by Marc Benioff is a must-read for any Trailblazer seeking to understand the success story of Salesforce, the company that revolutionized the world of CRM and cloud computing. This book, authored by the co-founder of Salesforce himself, provides a captivating insight into the principles and strategies that have enabled Salesforce to become one of the most influential and prosperous technology companies in the world. 
One of the book's standout features is its innovative vision of "No Software," which changed the game in the industry by promoting the SaaS (Software as a Service) model. Benioff explains how this approach allowed Salesforce to stand out by offering flexible, cloud-based solutions that could be accessed from anywhere while avoiding the costs and hassles associated with traditional software installations. 
Furthermore, the book highlights Salesforce's "1-1-1 Model," where the company dedicates 1% of its time, resources, and products to charitable causes. This humanitarian approach demonstrates how companies can thrive while making a positive impact on society. 
"Behind the Cloud" is also rich in anecdotes and practical advice, offering lessons drawn from Benioff's personal experience in building Salesforce. It delves into team management, product development, groundbreaking marketing, and the importance of corporate culture. 
In summary, this book is a source of inspiration for all Trailblazers aspiring to create innovative and socially responsible enterprises. It encourages thinking differently, challenging conventions, and pursuing a bold vision. "Behind the Cloud" is an invaluable resource for those looking to transform their business and leave a positive mark in the technology world. 
To wrap up, two key topics for this fall, each deserving its own content:  
Winter '24 Release is in the sandbox! Read our article here and join us on 09/05 for our traditional webinar.

 

From September 12th to 14th, it's Dreamforce! Cloudity will be there and will even participate in 3 sessions! You'll have the chance to learn more very soon!

 
Have a great back-to-school season! 
The Cloudity team would like to thank Jean-Pierre Rizzi, project manager and Salesforce consultant at Cloudity, for all the articles in this summer series!